The 10 Day Jumpstart
A Total Mind & Body Cleansing Program Designed to Purge Built Up Toxins, Blast Stubborn Fat and Jumpstart Your Metabolism. Get started in just a few minutes for only $29.
The 10- Day Total Mind & Body Jumpstart Plan is designed to purge built-up toxins, blast stubborn fat & breakthrough your plateaus. It is especially designed to:
Reset Your Metabolism
Rid Your Body of Stubborn Fat
Rid Your Body of Built up Toxins & Waste
Balance Your Hormones
Give You Your Energy Back & Fuel Your Bodies!
This is not a workout plan, but a complete 10-Day Jumpstart nutrition program to get your body revved up and ready to claim the active lifestyle you want. This works for anyone at any fitness level looking to create total mind and body health with a deep cleanse to your system.
Why do you need this?
How nice would it be to feel refreshed, re-energized and grounded in healthier habits?
Committing to the 10 days will help you get yourself on track with healthier habits and help to reduce, your caffeine, sugar and carb cravings.
You will feel less tired and bloated. You will feel more attractive and fit better into your clothes.
Your 10-Day Total Mind & Body Jumpstart Includes:
10-Day Success Guide: This will contain my best tips, strategies, and recipes to help you to get the most out of this cleanse.
Daily Checklist: To make sure you are staying on track with the key components on a daily basis.
Sample 10-Day Meal Plan: This is a sample 10-Day Jumpstart plan - feel free to customize and make it your own based on the rules in your Success Guide!
Grocery List: A complete grocery list for you if you choose to follow the sample plan exactly.
Blank Meal Chart: If you choose to create your own plan, I've included a blank chart for you to make it easy!
Personal Commitment Statement: Print this out and sign it- it will help to keep you focused and accountable over the next 10 days.
Whatever your goal, you will find that this 10-day cleanse will have a powerful impact on how you feel, how you look and the state of your health. The steps are simple, the recipes are delicious and all you need to do is decide that it is time. I hope you enjoy this plan and the process of taking the steps to rid your body of all the toxicity that has been holding you back.
Give your weight loss a HUGE Jumpstart for only $29 .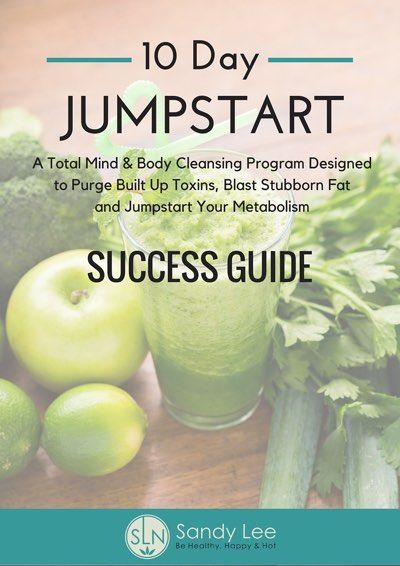 Note: This is a digital download only. Nothing is mailed to you. These are PDFs that you can download on any of your devices. This is an instant download and you will receive a link immediately after purchasing via email. Download to your computer/tablet/phone.